Once you've successfully completed our online course, you will be sent a Completion Certificate. This document will state that you've finished an Alcohol Awareness Class or a Minor-in-Possession Class from Blue Mountain Education, Inc. The following items will be printed on your certificate:
Your Name
Date of Birth
Case Number (if applicable)
Address
Phone Number
Number of Sessions/Hours Completed
Shipping
Your Completion Certificate will be processed and shipped the next business day after you've successfully completed the course. Meaning, if you finish the course on Wednesday, then your document will be sent on Thursday. If you finish the course on Friday, then your certificate will be shipped Monday morning. All certificates are shipped via First-Class mail , you do have the option of having your certificate overnighted, for a small fee. Otherwise, you will receive the document in 5-7 business days.
Special Note: We are unable to ship Completion Certificates to courts, DMVs or to anyone other than the person who was enrolled in the class. We do not electronically notify any courts or DMVs of your progress or completion.
Proof of Enrollment
Not only will you receive a free Completion Certificate, but we will also provide you with a free downloadable Proof of Enrollment. This document can be used to show a court or employer that you've started an DUI/DWI, Alcohol Awareness or Minor-in-Possession course. Displayed on this document will be the number of sessions or hours that are part of the class you're enrolled in.
Sample Certificate
Below is a sample of our certificate. Your certificate will contain the information related to your case and may vary for certain jurisdictions.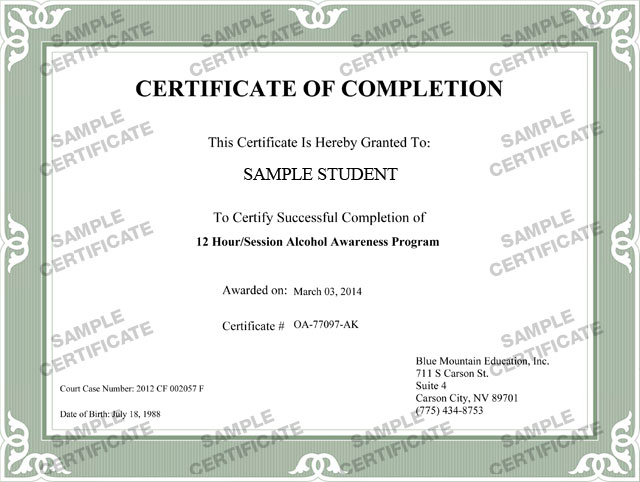 Any Questions?
If you have any questions or are in need of a custom request, please Contact Us. We are here to make this process easy and convenient.